What are the advantages of Business Automation?
The primary goal of Business Automation is to reduce your operational expenses while increasing user productivity, business capabilities, processing reliability, and information reporting. Successful solutions will allow you to provide better service for your customers and can greatly reduce manual processes.
Increased Employee Productivity
Custom software allows for increased efficiency through an intuitive system interface designed for your Company specifically. All tasks that can be automated are performed by the system, thus reducing user responsibility. Increased controls prevent unnecessary data entry errors and increases data validity. System functionality is designed for your particular industry, using the correct jargon, and is specific for your business requirements.
Increased Customer Service
Customer Service Screens designed for your specific business practices allow for a faster, more reliable handling of customer inquiries. Additional technologies, including telephony and Internet capabilities, can reduce the number of inquiries directly handled by your staff. Software functionality that produces automatic faxes and emails can further reduce staff involvement while increasing customer satisfaction.
Reduction in Employee Turnover Expense
Systems designed by UDI get new employees productive faster than generic solutions by requiring less training and less user computer experience. The system interface is kept simple and flows with your business practices. A user that understands your industry will have an immediate basic understanding of system functionality.
Increased Risk Analysis Capabilities
UDI will engineer your system to capture the necessary statistical data to allow you to analyze your business through specialized reporting designed to isolate specific factors that are effecting your margin. UDI is experienced in risk management and data mining.
Increased Management Capabilities
System design can include screens and reporting to allow supervisors to monitor work done by each employee, tracking averages and trends, and assisting in all aspects of employee evaluation. Your custom designed solution can assist you in setting quotas, goals, and help in personnel projections for future growth.
Increased Reporting Capabilities
Custom solutions provide reporting capabilities that may be impossible to achieve through standard software offerings. Reports that meet your specific requirements can assist in all areas of your business including marketing, price determination, and projections. All aspects of the system are designed with the reporting requirements as the top priority, allowing you to depend on receiving accurate information.
Let the Experts Design Your System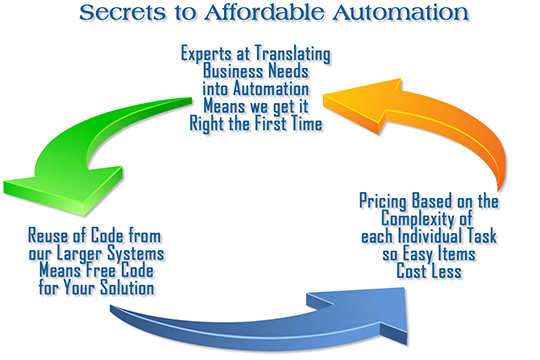 Our business consultants are very experienced in a vast array of business operating models and their requirements. UDI will work with each department of your business noting the specific needs while determining all of the possible opportunities for automation.
Once all facets of the operation are understood, UDI will design your system to meet the complete requirement with special focus on ease of use, controlled data entry, complete financial processing from invoicing to aged receivables, and tools to assist all levels of management, including human resource projections. UDI will provide your staff a detailed system specification showing each level of functionality, written in terms that your staff will understand. A prototype will be created, when necessary, to allow you to experience the "look and feel" of your software.
Business Logic is our Specialty
Having worked with large systems for many years, the staff of UDI has an advanced understanding of business processes. The software produced is engineered to:
Enhance Workflow: By preventing duplicate entry, generating information when possible, logical screen layouts, and field-level controls, the system allows for greater production throughout your company.
Increase Data Security: System functionality is limited by user account, preventing unauthorized access to company-sensitive information. Supervisor overrides, financial controls, and user monitoring helps to prevent fraud.
Optimize Data Reliability: Data validation is perform during each field entry. Preventing bad data from entering the system is key for reporting reliability.
Increase Data Mining Capabilities: UDI designs systems capable of mid-cycle reporting, allowing your staff to monitor their goals and projections. Statistical, managerial, and risk management reporting provides better control and assessment capabilities.
Call Today for More Information